OPC 24 Hand Lotion
Order quantity
1
2 - 3
4 - 7
8 - 1000
Unit price

€

 25.30

€

 23.30

€

 22.10

€

 21.00
Order quantity
1
2 - 3
4 - 7
8 - 1000
Unit price

€

 17.20

€

 15.80

€

 15.00

€

 14.30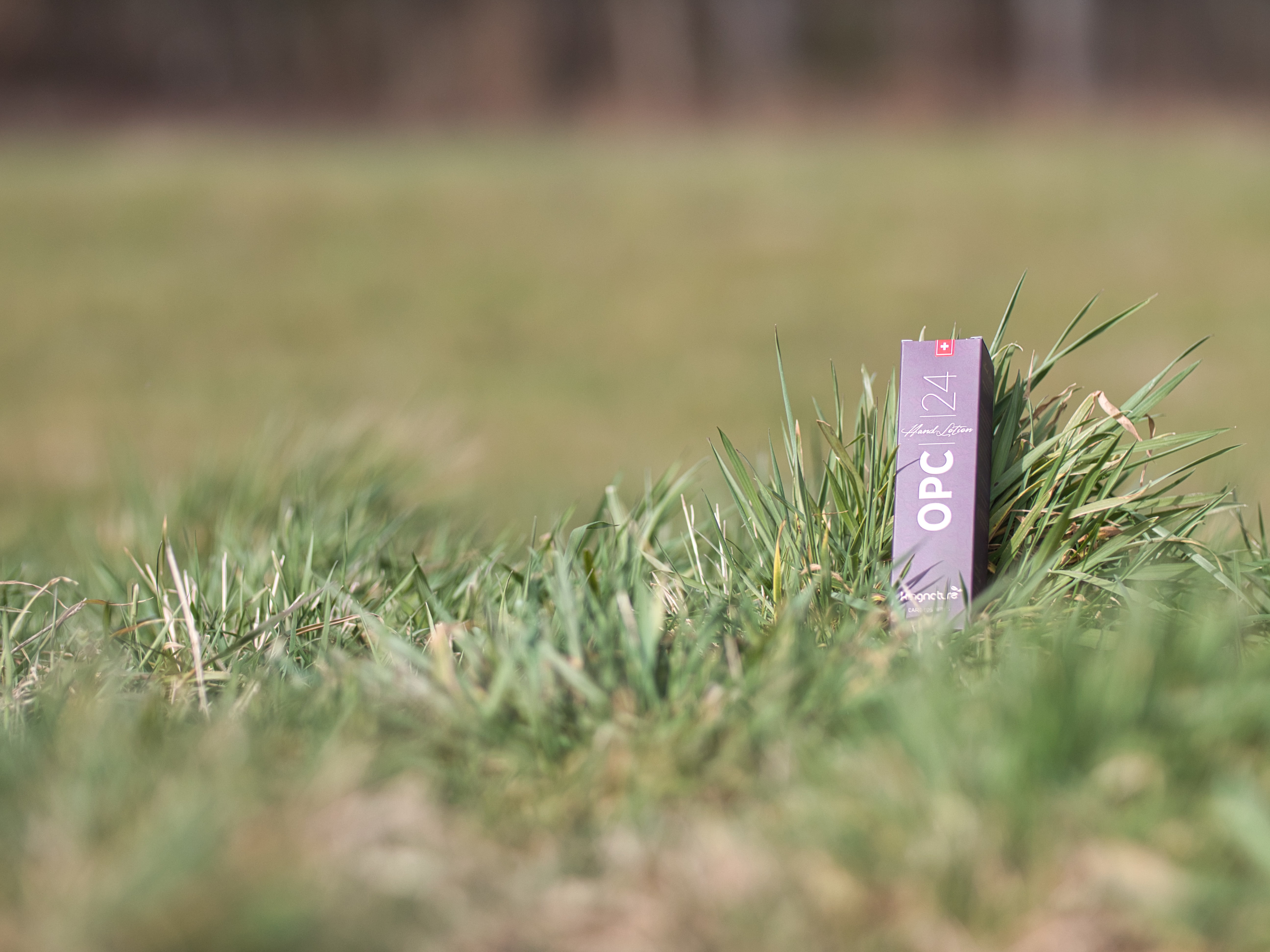 Natural anti-aging effect! The contained OPC from grape seed extract protects the skin against oxidative stress and aging. The remaining ingredients also ensure well-cared for hands and a pleasant fragrance.
Pure natural cosmetics – The OPC 24 hand lotion
Improved formulation – buy OPC 24 hand lotion now!
The hand lotion is now even more natural and the positive effect on the skin has been further enhanced! If you are already familiar with the hand lotion, you may notice small differences: The color is slightly lighter and the texture is creamier and smoother. Furthermore the lotion is easier to spread. The reason for this are the following changes:
As a gel former we now use the natural xanthan gum, which forms pleasant gels, can be applied to the skin very well and has a pleasant caring effect on the skin. Xanthan Gum is obtained by fermentation of glucose or starch by means of a special bacterium.
As a preservative we only use substances that are officially approved for use in natural cosmetics, and we use only as much of it as is necessary to keep the product stable.
Thus we achieve a natural cosmetic content of 100%, if we understand that the ingredients are from nature or occur in nature.
We have not only optimized the recipe, but also the production. As a result, the emulsion is now even finer. The much smaller oil droplets make the hand lotion creamier and silkier and make it even easier to spread on the skin. The valuable ingredients are distributed even better. This also influences the color; the lotion is slightly lighter.
Valuable ingredient OPC
The name of the lotion already reveals an important ingredient; OPC. But what is OPC? OPC stands for Oligomeric Proanthocyanidins, a group of secondary plant compounds. OPC is an extremely effective antioxidant and also has anti-inflammatory properties.
How does OPC affect the skin?
The skin cells are attacked daily by free radicals, so that the skin loses its elasticity and wrinkles can form more and more. Especially when the free radicals attack not only the cells but also the two fiber proteins collagen and elastin. These proteins keep our skin firm and elastic. OPC intercepts these free radicals and makes them harmless. OPC can also repair collagen, which has become unstable. OPC restores those collagen structures that are missing or brittle. The skin regains its elasticity and wrinkles are smoothed out.
Especially mature skin loses elasticity with age and becomes thinner and drier. This is due to the loss of collagen and hyaluronic acid. Mature skin is therefore dependent on more moisture and needs a slightly more demanding care, which strengthens the skin again. OPC can repair the missing collagen and help the skin regain its elasticity. So OPC is a natural anti-aging in hand lotion!
The OPC in the hand lotion comes from grape seed extract. Thanks to this plant substance, the lotion also has the typical pink color.
Other natural cosmetic products with OPC: OPC 24 Day Cream or OPC 24 Night Cream.
Other ingredients
In addition to the OPC from grape seed extract, the OPC 24 hand lotion contains other caring, nourishing and fragrant substances from nature: Apricot oil, mango butter, macadamia oil, babassu oil and evening primrose oil.
Natural care for your hands! You deserve it!
100% natural cosmetics
The OPC 24 hand lotion is purely natural cosmetics, which means that we only use ingredients that are natural or occur naturally. This way we achieve a 100% natural cosmetic content.
Advantages of the OPC 24 hand lotion
Pure Natural Cosmetics
Contains OPC from grape seed extract
Natural anti-aging product: More elastic skin, reduces wrinkles
Can be spread very well on the skin and is quickly absorbed
Pleasantly caring effect
In airtight airless pump – the valuable ingredients are perfectly preserved
Available in two sizes (50ml and 30ml)
Dermatologically tested
You can choose between two bottle sizes
50ml: The larger version is ideal for home use and for the whole family.
30ml: With the smaller version, the same product is available in a handy bottle that fits in any handbag. So you never have to do without the valuable hand lotion on the go, whether traveling or on the way to work.
Buy OPC 24 Hand Lotion now!
You will receive a product with high-quality raw materials and an optimized formula, gently processed and controlled in Switzerland. Scientifically tested vital substances from kingnature!
Product information OPC 24 hand lotion
Dermatologically tested. OPC 24 hand lotion with OPC from grape seed extract (natural anti-aging), smoothing apricot oil, re-fatting mango butter, nourishing macadamia oil, nourishing babassu oil and soothing evening primrose oil. Contents net 50 ml or 30 ml. The OPC 24 hand lotion is available from stock.
Application
Apply a good amount of cream to the hands every day as needed. The lotion is quickly absorbed and leaves a well-scented protective layer. Especially in the dry winter time it moistens the hands quickly and pleasantly.
Packaging and environmental protection
The OPC 24 Hand Lotion is packed in an airless pump PP bottle. In the airtight bottle the valuable ingredients of the lotion are perfectly preserved. At the beginning, several pump strokes may be necessary until the lotion reliably flows out.
Ingredients
Ingredients according to INCI: Aqua (water), Prunus armeniaca kernel oil (apricot kernel oil, nourishing base oil), Orbignya oleifera (babassu oil, moisturizer), Urea (urea, moisturizing factor), Mangifera indica (refatting mango butter), Cetearyl Wheat Straw Glycosides (and) Cetearyl Alcohol (Xyliance, vegetable emulsifier), Glycerin (vegetable moisturizer), Sodium lactate (natural water binder), Hydrogenated Lecithin (vegetable emulsifier), Benzoic acid (natural preservative), Sorbic acid (natural preservative), Betaine (trimethylglycine, vegetable, moisture retaining), Oenothera biennis (evening primrose oil, fatty acid donor), Macadamia ternifolia (macadamia oil, skin smoothing), Vitis vinifera seed extract (grape seed extract with OPC), carrageenan (natural gelling agent), xanthan gum (natural gelling agent), perfume, citric acid (citric acid – natural pH regulator).
Datasheet of OPC 24 Hand Lotion
You can find all product information in the Datasheet OPC 24 hand lotion.
Buy OPC 24 Hand Lotion now!
eKomi Reviews: